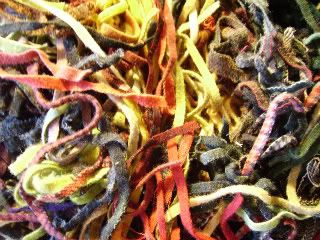 Grab your left-overs & a piece of rug backing! This is a GREAT opportunity to start your Spring cleaning! Many of us have baskets of wooly worms just needing to find a new home in a nice rug.
Here is how it will work ~
* get a piece of rug backing (your choice) and mark out a size of at least 10 by 18 inches.
* choose a SHAPE ..... circle, square, triangle, oval, rectangle, hexagon, etc
* Using your choice of shape - JUST ONE - mark out a design on your backing using that shape repeatedly. Be creative here, a simple row of circles is nice.... but what about using one big circle & then several 'broken' circles? Think of quilting blocks to see how creative you can get using just one shape to make a design.
* Using ONLY worms from your left-overs basket ~ hook away! The only exception I will allow.... is a row or two of a solid color to border the entire rug or outline shapes in your design. There should not be any solid hooking masses ~ think hit n' miss.
The deadline for this challenge is set of May 4th. I will compile all the rug photos in one album ~ anonymously for voting. Once the voting is complete.... winners will be announced & the album will be updated with the artist names.
Happy Hooking!